Council Representative: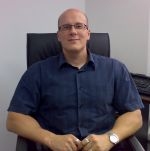 Mr. Petri Matikainen
Vice President, Sales & Marketing
IonPhasE Ltd.
Managing Director
IonPhasE (Guangzhou) Special Polymers Co., Ltd.
Website:
E-Mail:
Address:
Room 1301, Goldlion Digital Network Center
138 Tiyu Road East
510 620 Guangzhou
P.R. China
Telephone:
+86 139 2419 7650
IonPhasE (Guangzhou) Special Polymers Co., Ltd., is a subsidiary of IonPhasE Ltd, a Finnish company specialising in development and manufacture of high performance static dissipative polymeric polymer additives. These unique materials are used to control static electricity in plastics materials. IonPhasE is globally one of the leading companies in its field, and has extensive patent portfolio in the respective technology area.
IonPhasE's products, "IonPhasE IPE" or just briefly "IPE", are utilised in various industries such as electronics, semi-conductor, consumer appliances, automotive, mining, and chemical and food industry.
IonPhasE Ltd was established in 2001. Headquarter, product development, sales and production functions are located in Finland, and sales & marketing and technical support for the whole APAC region is handled from the sales office in Guangzhou (established 2008).